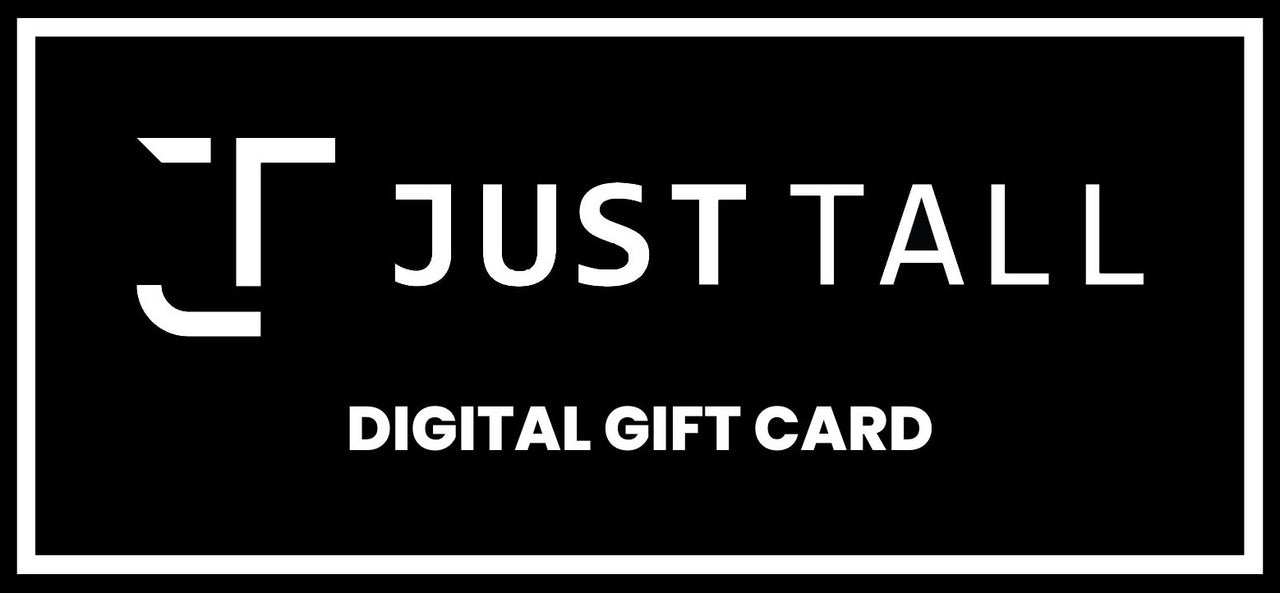 Why Gift Cards are Great
Buying for a fussy tall guy?
Don't know his height and weight?
Almost forgot his birthday and need to pretend you didn't with an instant delivery gift?
Forgot his birthday and need to get out of trouble fast?
It happens. Make those problems go away with a Just Tall Digital Gift Card.
Benefits
Instant delivery to the recipient's email.
Available in multiple currencies: GBP, USD, EUR, CAD and AUD.
Can be used multiple times till balance finishes.
All products bought are covered by our easy returns policy.
Conditions

Not redeemable for cash. Refunds are processed back to the gift card's balance.
FIND YOUR SIZE
HEIGHT & WEIGHT GUIDE

SMALL TALL
6'2"+
145lbs - 170lbs
(65kg - 77kg)

MEDIUM TALL
6'3"+
170lbs - 195lbs
(77kg - 89kg)

LARGE TALL
6'4"+
195lbs - 220lbs
(89kg -100kg)

XL TALL
6'5"+
220lbs - 245lbs
(100kg -111kg)

2XL TALL
6'5"+
245lbs - 270lbs
(111kg - 122kg)
SMALL TALL
6'2"+
145lbs - 170lbs
(65kg - 77kg)
MEDIUM TALL
6'3"+
170lbs - 195lbs
(77kg - 89kg)
LARGE TALL
6'4"+
195lbs - 220lbs
(89kg -100kg)
XL TALL
6'5"+
220lbs - 245lbs
(100kg -111kg)
2XL TALL
6'5"+
245lbs - 270lbs
(111kg - 122kg)
TALL MEN'S T-SHIRTS
MORE CHOICES
Organic Tall Slim T-shirt
$25.00
FOR JUST TALL GUYS Why should baggy sleeves, chest and shoulders be the price tall lean guys have to pay to get t-shirts that are long enough? Not everyone above 6'2" is big and tall. You shouldn't have to be a victim of horrible standard high street sizing just for being vertically gifted. So we're fighting the good fight for tall slim and athletic guys everywhere. A great fitting, figure flattering t-shirt that is long enough minus the bagginess is your birth-right, after all. Meet our tall slim fitted tee, just for tall skinny, athletic and average guys like you. It's 3" (7.5cm) longer than regular sizes, guaranteed to fall effortlessly to your mid fly, and fitted through the chest, shoulders and sleeves so it'll gently flatter and hug your upper body. And it's more relaxed through the waist - only a 0.5" taper, giving you some room if you're carrying some belly fat and still comfortable if you're not. That makes it a win-win for the lucky super high metabolisms and the just as lucky Dad bods. These tall slim t-shirts give balance to all tall builds, and they're also great for shorter guys with long torsos.    PREMIUM ORGANIC JERSEY FABRIC Don't be fooled by cheaper cotton-poly blends. Do you really want itchy scratches from piling (small bobbles) that appear after a few washes? You have enough tall people's problems to worry about issues like that. But our 100% organic medium weight cotton fabric is just next level - organic cotton farming uses up to 90% less water than standard cotton. It's ringspun and combed giving it a softer and more durable feel, getting better with every wash. It's stretchy, naturally breathable, and already pre-shrunk at the factory so you won't be throwing this tee away anytime soon. Weighing at 190gsm (grams per square meter), it's suitable for all seasons.   OUR PROMISE Make memories. Wear it anywhere and everywhere.  Great for layering in winter or by itself in summer. But most importantly, our extra long t-shirts for tall men will actually fit you in length and width. You won't be saying 'it's too short' and 'it's too baggy' anymore. Or your money back. Simple.
Organic Tall Slim V-Neck T-Shirt
$25.00
TIME WASTING Always finding it a mission to find sustainable and affordable tall v-neck t-shirts for your tall slim frame? After hundreds (or thousands?) of hours wasted at shopping malls and online, we know the feeling. Sustainable menswear is super expensive. Longer t-shirts always mean wider t-shirts, as if the only people in the world are either short, or big and tall. What about the just tall guys? You're just a normal guy, not a freak of nature. You deserve love too.   A TALL THAT FITS Your mission ends here. Just Tall have what you're looking for, an affordable organic v-neck tall tee designed expertly for tall skinny and athletic guys above 6'2". It's 3" longer in the body than regular sizes, so you'll never have to worry about your back showing ever again. It's fitted in the chest, shoulders and sleeves, accentuating your slim frame and making rotten bagginess a nightmare of the past. And it's more relaxed at the waist, giving balance to your tall torso and making it suitable for all tall body types, the super skinny and the dad bods carrying some belly fat. Best of all, it's made of 100% certified organic cotton - ringspun and combed for a soft and durable feel, and knitted single jersey style for an awesome stretch. Mission completed.   OUR PROMISE You'll literally wear this anywhere and everywhere. To the gym. To a semi formal do. Even to bed. This timeless classic will look just like new even after multiple washes. Style this v-neck t-shirt especially for tall men with just about anything. It's not baggy - we promise. Or your money back. Simple.